Navigation
Home
---
---
Site Info:
FAQ
History
Links
Other
---
Contact
Part of the ongoing effort to rebuild New York's World Trade Center, the first tower to rise at the Lower Manhattan site is Tower 7. A glass clad tower 200 feet taller than its predecessor, the 52 story 7WTC has become a landmark in the famous skyline. It is due for completion in 2005.
However, the signature building in the complex will be the new Tower 1. Named the Freedom Tower by New York Governor George Pataki, 1WTC will rise 1,368 feet to rooftop, identical to the original Tower 1. With its antenna/spire, 1WTC rises to a patriotic 1,776 feet. Numerous delays and redesigns have slowed progress, but 1WTC is scheduled for construction beginning in early 2006.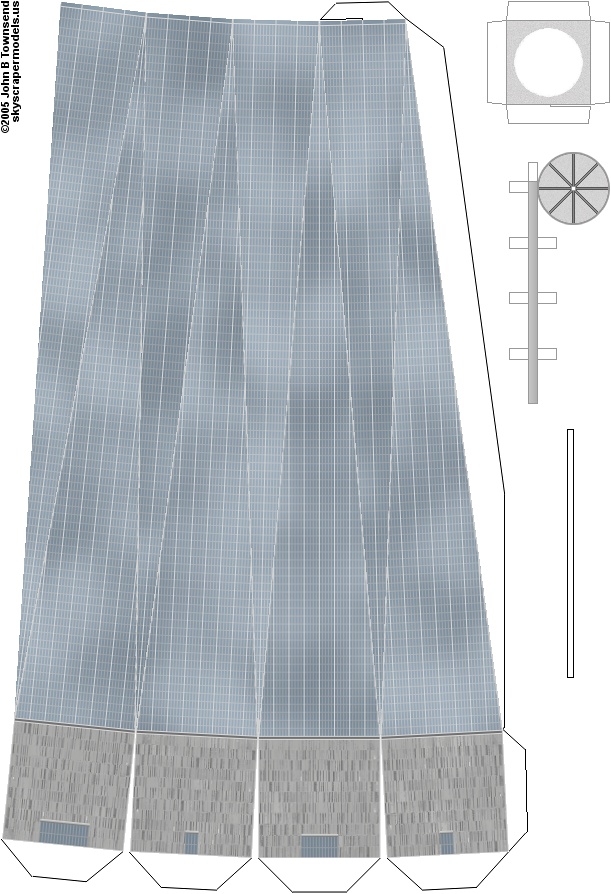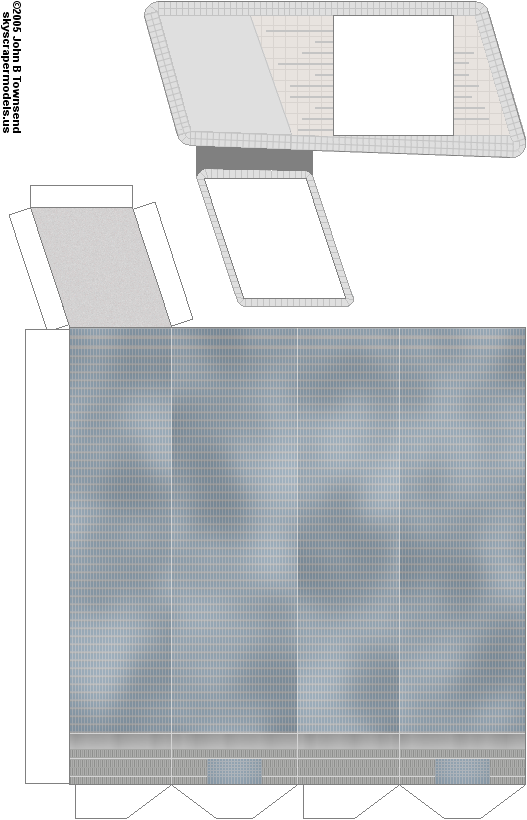 1) Cut out 1WTC main tower. Fold each of the angled corners 45 degrees so that four sides are vertical and four sides angle inwards. Makes sure to cut out slot in the tab on top.

2) Cut and fold 1WTC roof. Again, make sure the slotted tab is cut properly. Insert roof slot into tower slot. Glue all tabs.

3) Cut out 1WTC spire pedestal. Make sure to poke a small hole in the center for the spire. Attach to the roof of 1WTC.

4) Cut out and fold 7WTC. Although 7WTC is a parallelogram, it should be folded as a normal box.

5) Cut out NWTC base.

6) Attach 1WTC to base.

7) Attach 7WTC to base.

8) Add spire of correct length to the top of 1WTC.